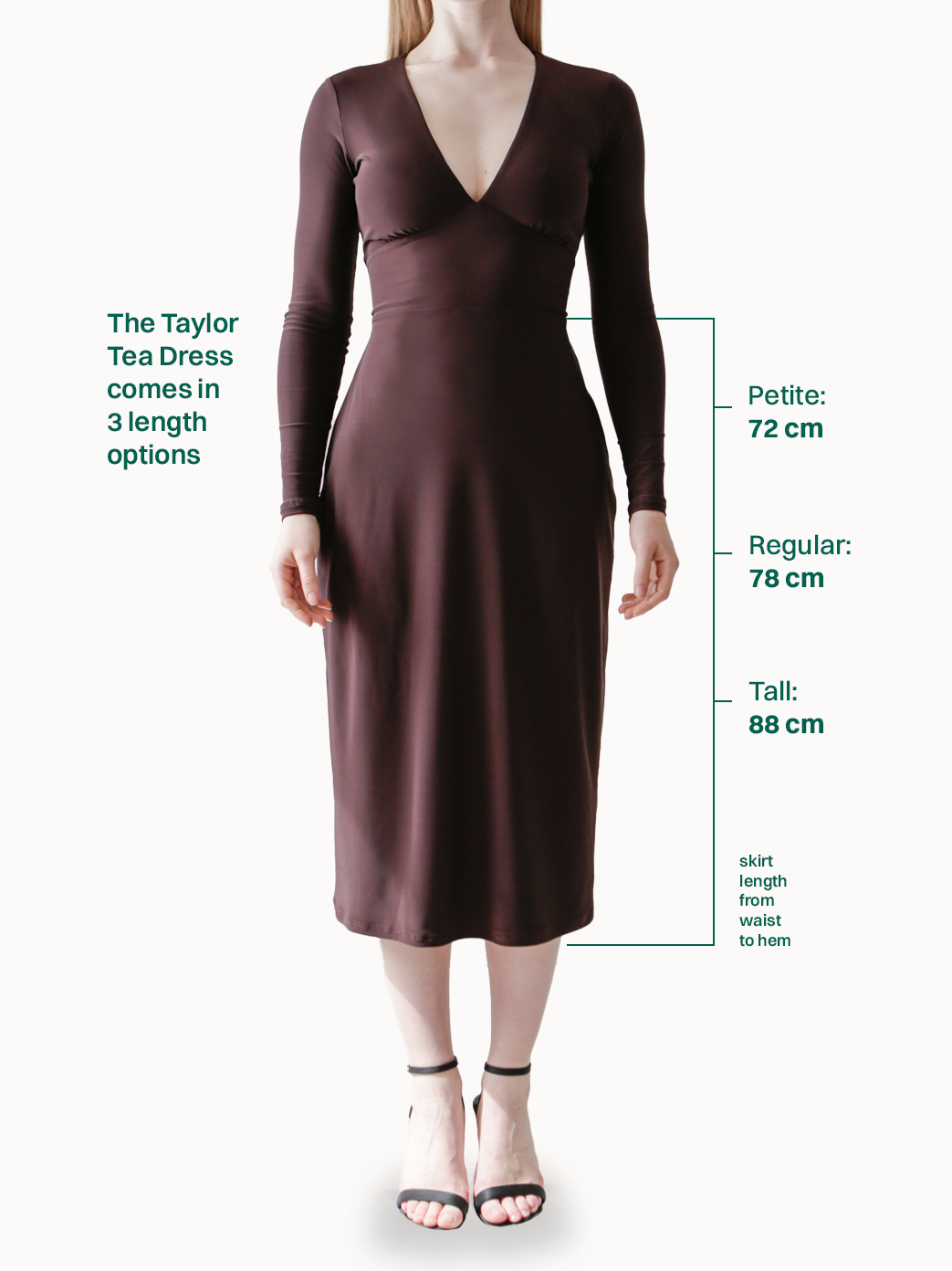 Taylor Tea Dress in Petite
Shipment starts on {DATE_WILL_BE_SHOWN_HERE}
Shipment starts on {DATE_WILL_BE_SHOWN_HERE}
'Taylor' is now petite! Crafted using a double-layered fabric that mimics the fit of shapewear. With a floaty silhouette from the waist, the skirt features a loose lining to give gorgeous movement that ripples as you walk. 'Taylor' features ties at the waist that can be tightened to your preference. A dress you'll reach for time and time again for how confident it makes you feel.
---
Taylor Tea Dress in Petite
Information about Taylor Tea Dress in Petite

Sizing & Model Information

Fabric Information

♻️ GRS Recycled Polyester. Post-consumer recycled fabric that is Global Recycled Standard certified.

60% Recycled Polyester, 35% Polyester, 5% Elastane.

This fabric has good hold and drape. It maintains it's stretch wash after wash. You won't need to iron or steam these garments as the fabric is hardy in its' resistance to wrinkling. It is fast drying and we would therefore recommend hanging to dry rather than using machines.

This fabric contains recycled polyester. We think 60% recycled is a good start but no where near good enough. We are working to secure fully recycled fabric options.

Virgin polyester is made from non-renewable resources. We are limiting our use of virgin polyester and will eventually swap this out for a fully recycled alternative. While we have stock we are utilising this fabric on garments that will have a useful life - that is garments that will be worn often and for a long time. We hope this will create a benefit from this fabric that already exists.

This fabric is highly durable, stretchy and comfortable to wear. The fabric is double layered throughout the body.

To show you we truly care, we have curated a guide on the best way to look after and future-proof your garments. Simply type 'care to repair' in the search bar, toggle can be found in the top right hand corner of the website.

Sustainability

People - the garment is sewn ethically in London, UK, and made by expert sewing machinists, paid above a living wage. AYM is a member of the Brighton Living Wage Organisation, which raises awareness of the importance of paying a living wage.

Packaging - All paper and card packaging, including boxes, swing tags, and box inserts, are produced using FSC® responsible paper and card. They can be biodegraded or recycled after use. The garment bags are used to protect the garment to ensure it does not get damaged in storage and transit. These bags are made using a D2W biodegradable material.

Fabric - recycled composition fabric. Certified Global Recycle Standard Fabric.

To learn more about what we are doing to be more sustainable, visit our 'Sustainability' page.
Shipping + Contact Info

Shipping

We ship worldwide.

Shipping services are available to all locations. Free Shipping is available when you spend over a certain amount.

Most of our customers are shopping from the US, UK, Canada, Australia, Europe and Asia. We offer a range of delivery services to best suit your needs.

View the full list of Shipping Services
Delivery & Returns
We ship worldwide; including to the US, UK, Canada, European Countries and Australia. Free Shipping is available when you spend over a certain amount. We offer a range of delivery services to best suit your needs. Returns and exchanges are available on all full price items, including on pre-order items.
Trusted Quality
We are dedicated to creating quality products you'll enjoy wearing time after time. Our clothing is made ethically in the UK by expert sewing machinists who are paid the living wage.
Why Pre-order?
You'll notice that some of our clothes are sold on a pre-order option. This doesn't mean they are sold out. We sell on pre-order so that we can accurately monitor how many items of a style to make. This is a slow fashion approach, as the styles aren't instantly available - but we are able to dramatically irradiate waste by producing only what is actually ordered.
Need help?
Our team of experts will help you. Get in touch: info@aym-studio.com
Kind Clothes
We believe that the clothes you wear should be created in an ethical way. Because you deserve to feel your best, knowing that the people who made your clothes were treated with the kindness they deserve.