At AYM we want to have a positive impact on the planet and the people and animals that live here, it's our responsibility to do better.
Every single product has an impact somewhere. Our aim is to add more good to the world than what we take from it. Our goal of being cyclical will take us a while to get to, but we're working hard on it.
Below we've outlined the steps we are taking in various areas that help us towards our goal.
This is a team effort. We see you as our team in achieving responsible fashion options. We value your feedback, so please let us know if you have ideas / comments / feedback or questions that would help us to improve. You can contact us via email: info@aym-studio.com.
Ethical
Throughout our company we are very considered in our approaches to what we do. To us, 'ethical' means choosing the morally correct way of doing something and we apply this to everything we do. This includes the fair treatment of our team who are paid above living wages and work in a safe, inspiring environment.
It also applies to our choices in being responsible to the planet - through reducing waste, counteracting any negative impact we may have on the planet and ensuring we are being kind to the ecosystems and the animals that live here.
Sustainable Responsibility
We aren't actively promoting ourselves as being 'sustainable' because we have a long way to go. Our interpretation of being fully '100% sustainable' can only exist when no new products are being created. This would be a world where everyone is reusing old products, without creating new ones (even recycling uses raw materials to process the recycling of products including electricity to power the recycling facilities).
We create products, therefore in our essence we can not be '100% sustainable'. However, we recognise that creativity, art and craft makes the world a more enjoyable place for us to live. We therefore want to be as sustainable as possible whilst still creating clothing for you to enjoy.
The excitement that comes from finding clothes we love, the joy of creating a new design as well as the employment of a team who earn their living through this process are all valuable reasons for our existence.
It's our duty as a company to make our clothing in the most responsible way that we can. We want to make the process of being responsible with clothes shopping as easy as possible for you. We want to provide a solution that allows you to enjoy clothing, guilt free. Therefore we take care of the impact the clothing has before it gets to you.
We want to be transparent about the processes involved in us becoming more responsible. Here we are outlining the various actions we are currently taking and our goals towards increasing our positive impact.
So, let's get into the details.
Transparency is important to us. We want you to have information so that you can make an informed decision about how to spend your hard earned money.
Design
As fashion designers we have implemented our responsibility into the very initial design thinking stages of our product creation. By designing with sustainability at the front of our minds we are able to be considerate in our approach to product creation.
We keep our designs in line with the desires of our consumers, because we believe access to ethical options without having to sacrifice your sense of personal style and self expression is fundamental.
Creativity makes this world a more enjoyable place to live and we are working to ensure that our creative approach to designs allows you to feel excited about our product offering, whilst being able to enjoy shopping with confidence that your choices are ethical too.
Made to Last
Creating garments that are made to last means two things; quality and timeless aesthetic. We are passionate about finding the best fabrics, production processes and finishes to keep garments lasting as long as possible.
Once the garments are in your hands, you can follow our Care Guide for tips on how to take good care of them so that they last as long as possible. 
Through a considered approach to the design aesthetic we are able to create garments that transcend seasonal trends. Our Wardrobe Staples are the pieces we love to wear over and over again. Anything that might be slightly more stylised in design approach is made using block colours without printed patterns; as patterns and prints tend to date more quickly.
Additionally, by using block colours we are able to create garments that you'll feel more comfortable wearing over and over again without it being overly recognisable - prints and patterns tend to be more of a statement that's familiar. We want you to feel confident wearing garments multiple times.
Production Process
Pre-Order
Pre-orders allow us to build up a quantity of orders and then produce in bulk lots. This ensures minimal waste as we are able to maximise the fabric usage across the multiple garments. We do this to produce only what is ordered, matching our supply to the demand.
This is mainly used on new garments as a way for us to monitor the demand on these styles before offering them for general sale. Pre-order gives us the ability to collect orders for a garment and then produce to meet that demand accurately. Traditionally in the (mid-range) fashion sector, clothing companies will produce 1000s of garments to meet minimum order quantities before a style is even launched. If the style isn't popular, the garments produced are instantly considered waste. Companies then have to reduce the prices in order to shift the products and if that doesn't work the garments are destroyed.
Pre-order takes longer – the styles aren't instantly available – but we are able to dramatically irradiate waste by producing only what is actually ordered.
Readily Available
When a garment is extremely popular, we will produce stock to support our in-house team. This reduces the risk of late orders that can lead to cancellations from our customers.
Readily Available garments have been produced in small batches based on sales results. We have carefully selected garments that are selling well so that we are producing only to meet near future demand (only ever holding 1-2 months worth of stock. This could be around 10 - 100 units per style). This allows us to ship these garments more quickly to customers who are pushed for time whilst simultaneously reducing waste by having limited quantities produced.
To produce quantities would be difficult for our in-house team to manage - as we work on an individual product supply chain. Cost efficiency in factories is created when a whole team of machinists works on one style of garment, with each sewing machinist making one part of the garment. For example; one sewing machinist may be dedicated to making the sleeve or sewing in the zipper. As you can imagine, when passing the garment between each sewing machinist within this process takes time and it is only more efficient when producing in batches of styles.
We work with out of house suppliers who are based in London if we need to produce more of a particular style. These are ethical production studios who we've worked with for many years to build strong and meaningful relationships. Our out of house producers are Fashion Enter and London Garment Services as well as a freelancer called Lulu who works in the same capacity as our in house sewing machinists however she works from her own at-home studio.

Discounts & Sales
Sales are rare for us. Due to our production processes, we are careful about the volume of production we create. This means that we mostly sell out of garments at full price, without the need to discount them in order to sell any left over stock.
Additionally due to the design process being minimal we are able to carry styles over to new seasons without the rush to discount or sell garments at the end of a season due to the style not being 'cool' anymore. The joy of minimalism in the colour palette and the thoughtfulness when considering the timeless qualities of clothing at the initial design stage allows garments to transcend seasonal trends, so that they will always be wearable. 
Reducing our Carbon Emissions 
Climate Positive Work Force
We are a member of the Ecologi programme, which off-sets the carbon of each of our team members. This helps us work towards being clime positive through growing trees through us contributing a monetary value each month to cover the cost of the trees being planted. All working towards helping the planet to reduce it's carbon emissions.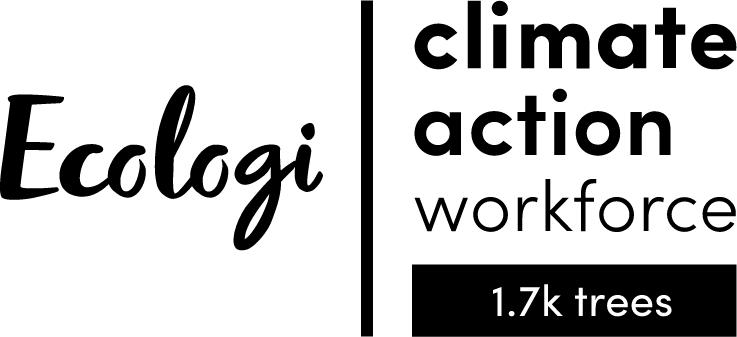 This badge is interactive and will be added to as we grow our forest, adding more and more trees each month.
Shipping (carbon off-set)
Our products are shipped with carbon off-sets to ensure a carbon neutral shipment.
The carbon off-set program is operated in collaboration with UPS. UPS track the amount of CO2 produced per parcel and accurately off-set this with off-set initiatives including planting trees. You can learn more about this here.
Packaging
We use cardboard boxes and gift boxes to send out full price orders. These can be used as keep sakes as they are lovely boxes, or can be recycled.
The internal packaging materials including flyers are made with eco friendly materials. The flyers are printed on recycled FSC paper.
Wherever we use mailing bags (discounted/sale items) they are made from recycled and recyclable materials.
1% For the Planet 
We are members of 1% For the Planet. This means that 1% of our annual revenue is donated to member charities of 1% For The Planet. Including towards planting trees, cleaning the oceans and preserving wildlife. 
Learn more about 1% For The Planet.
Ethical Approach
What is slow fashion?
To us, it's when garments are thoughtfully designed and produced in a considered way. We are not rushing to get the products made in mass to get the lowest prices. We are not pushing for lower prices and higher quantities to quickly sell the garments and move onto the next thing.
Every product we sell has been considered to ensure we are making something of benefit. We then test those garments through pre-order formats to confirm that supply of the product is worthwhile producing and then we make it only to meet actual demand.
Due to high minimum order quantities existing in fashion production (something we are able to avoid by having a made to order model on new releases as previously discussed) brands are often stuck with having to order large volumes of clothing in order to get a price they can make work for their customers. Doesn't it seem crazy to produce hundreds or thousands of pieces of clothing without knowing if they are going to be wanted by the customer? Then to have to discount those same clothes to try and push them onto customers who are looking for a 'bargain'. What happens with garments that can't be sold at discount?
This is why we take things more slowly and test the garments on a small initial batch or pre-order basis first. If you don't want a style, we don't make it. If you do want a style, we make it. Simple.
Living Wage
No clothing can be made without passing through a pair of hands somewhere. As fabric is flexible and every piece of clothing moves, stretches and reacts in different ways – there is always a human element within the production process. It is vital that the people in the supply chain are treated ethically.
Frankly, when fashion is designed to make you feel good – surely those who make it for you should feel good too.
At AYM we have teamed up with Living Wage Brighton, to ensure that we are always paying above the Living Wage to our team. All of our clothing is produced in the UK, so this is the UK Living Wage.
Fabrics
Responsible fabric choices to us are fabrics that we have visibility on the supply chain so that we can better understand the process the fabric has gone through to be created. Fabrics are typically created by taking a raw material substance and spinning or weaving that material into a yarn (like a thread) and then weaving or knitting those yarns together to create a length of fabric.
We have to be very selective about the fabrics that we choose. We want to select fabrics that tick a few boxes for us;
responsible in their production
ethical process used to create the fabric
never use animal products
they are soft and comfortable on the skin
they are durable and long lasting in quality
they can be used in our designs
that they will have a positive impact during their use
that they will have a positive impact in their afterlife
have the ability to be ordered in small batches (some fabric mills have minimum order volumes of 1000 metres or more and when we are making to order we simply don't need this much fabric)
are affordable
As you can see, there are lots of things to consider and these choices make fabric selection tricky. The biggest challenge we currently face is finding fabrics that tick all of these boxes whilst still being affordable.
Oftentimes fabrics can be £30+ per metre and a typical garment may use 1.2 metres of fabric. This means £45+ cost of fabric alone, before taking into account labour cost, packaging, overheads and shipping. This could result in a garment needing to be priced at a minimum of £95 to cover the cost alone, before profit is factored in. Some of our garments sell at £39... so you can see it makes things tricky.
Our Natural Collection contains garments that are all made from organic plant-based materials. These fabrics tick lots of the boxes for us.
One of our big challenges is finding a replacement for the Polyester/Elastane fabric that we use on lots of our garments. This fabric is made using polyester which is a durable, long lasting fabric created from plastic fibres. We recognise the need to change this fabric and we are slowly transitioning away from this. Whilst we still have stock of this fabric still, we are producing only what is ordered and we are creating timeless pieces that will be versatile so that the impact of the fabric is reduced through the garment being worn often and for a long time.
All new fabrics that we purchase must tick off the bullet point list of responsible requirements above.
Wear, Care, Repair
We want you to get as much use out of your garments as possible. We recommend that you take special care of your garments. We will do everything we can to create clothing that lasts and we hope you'll find ways to take good care of the clothing to ensure it lasts even longer. Learn more here: Care Guide
Learn & Grow
There is always loads to learn, we are pro-active about finding solutions to improve our sustainability. We also value your feedback and input. If you have any suggestions for us please get in touch: info@aym-studio.com