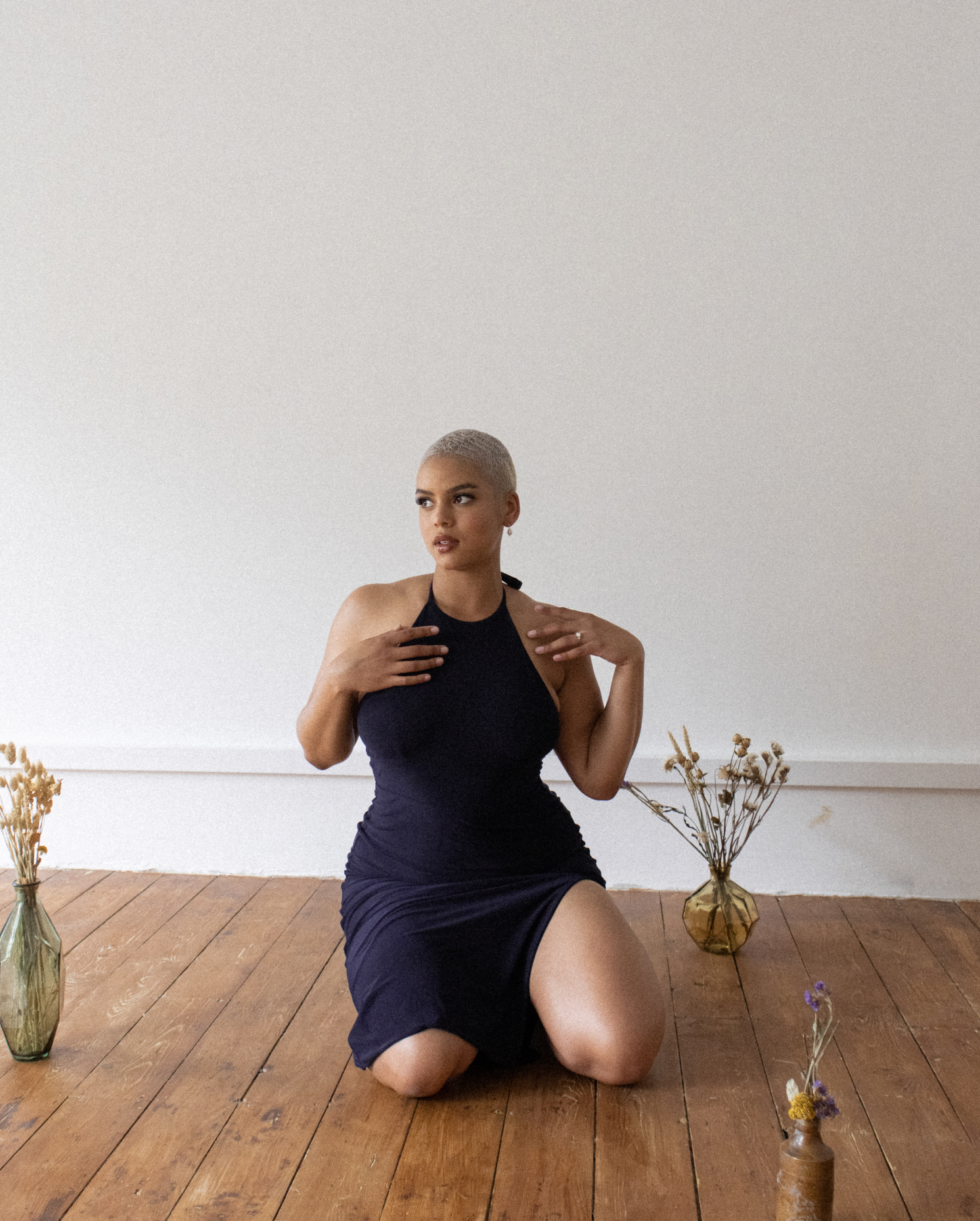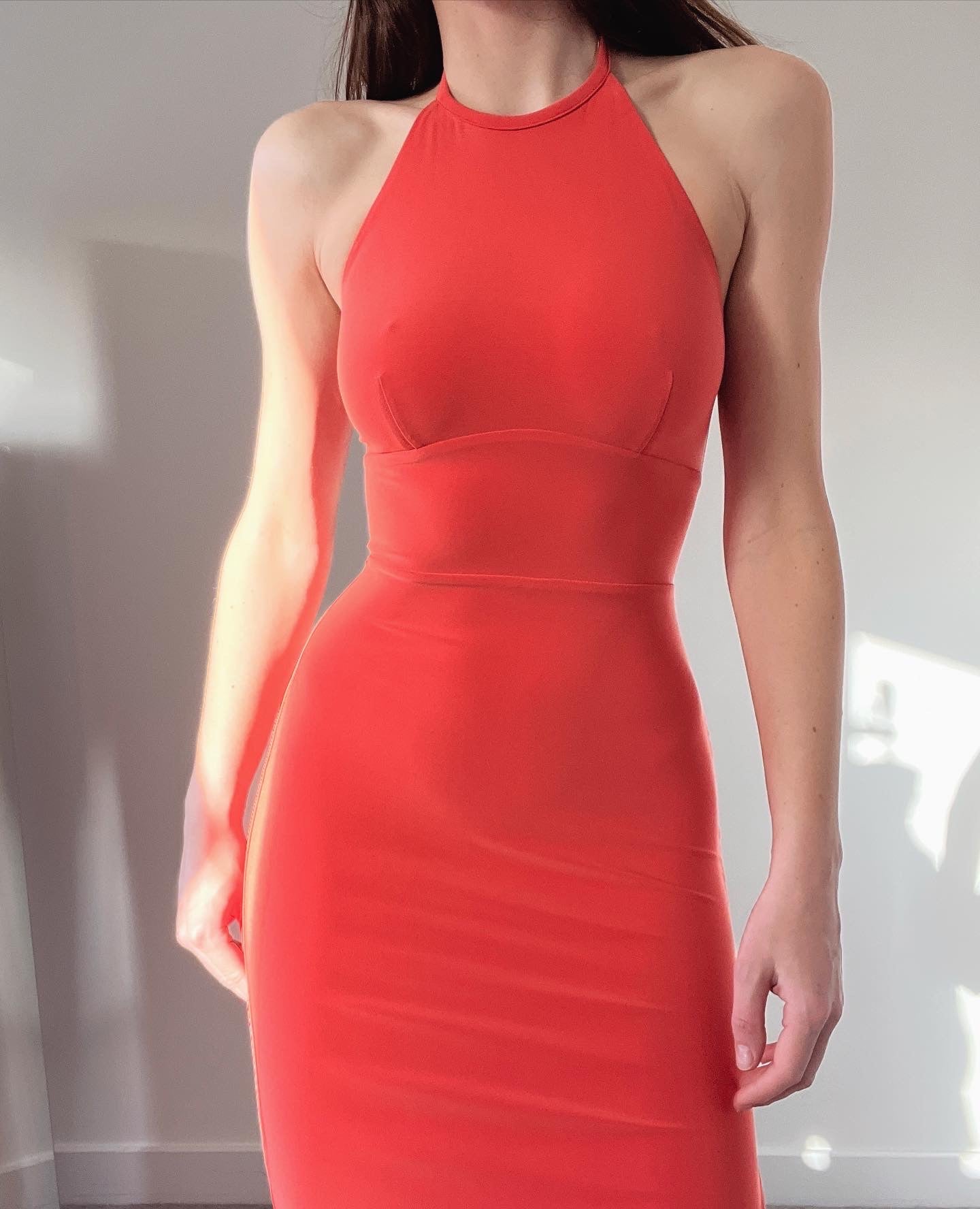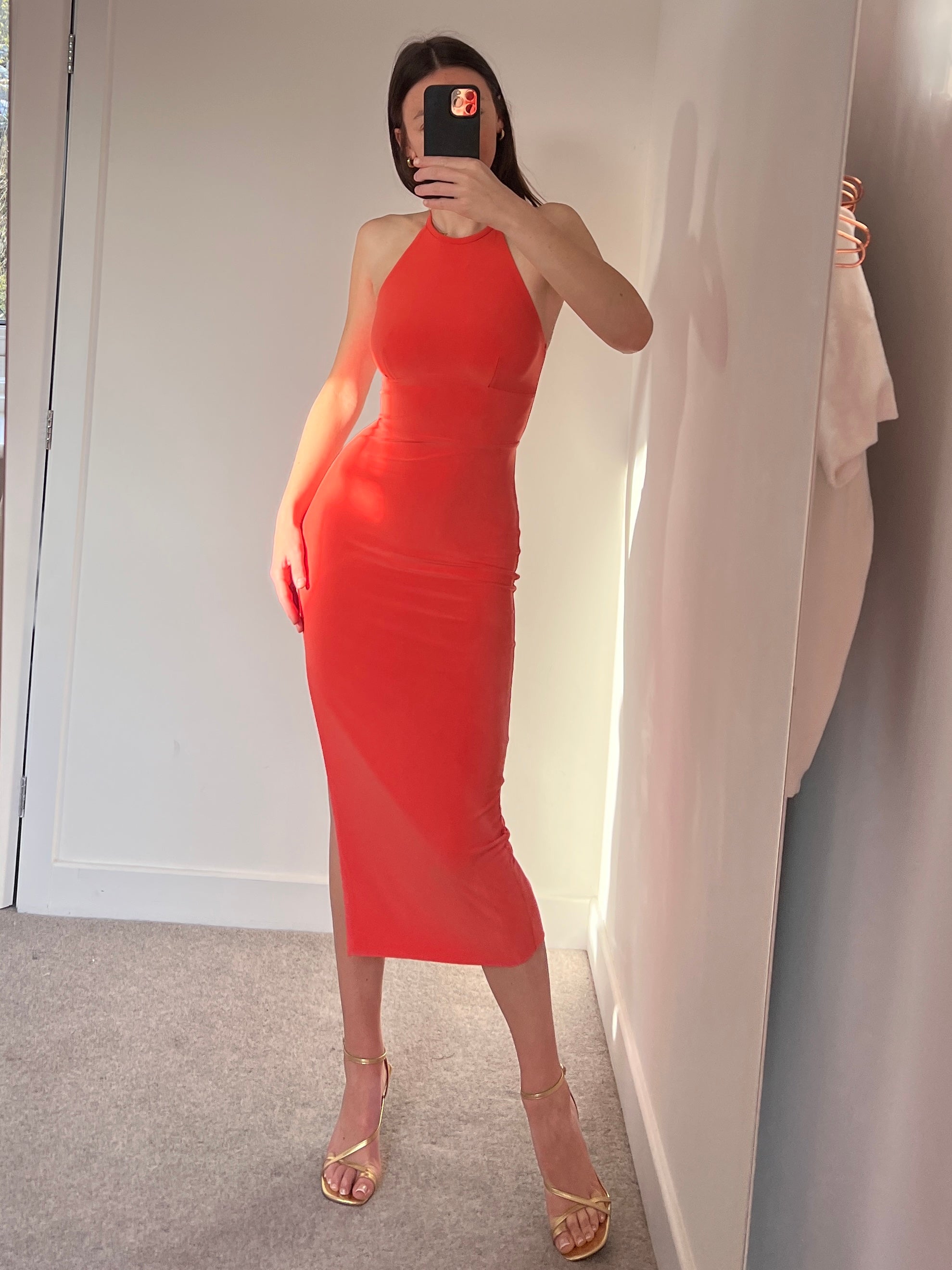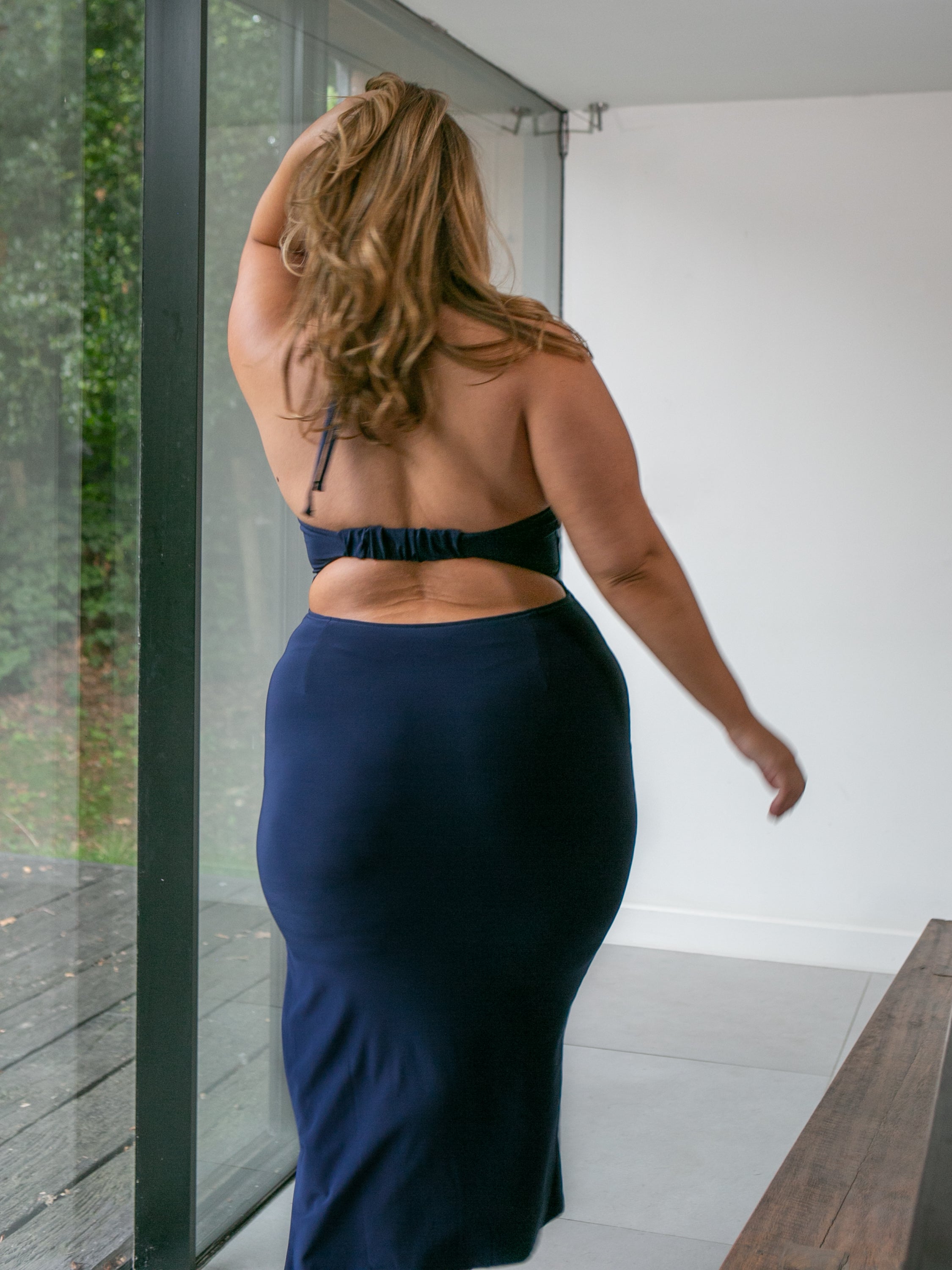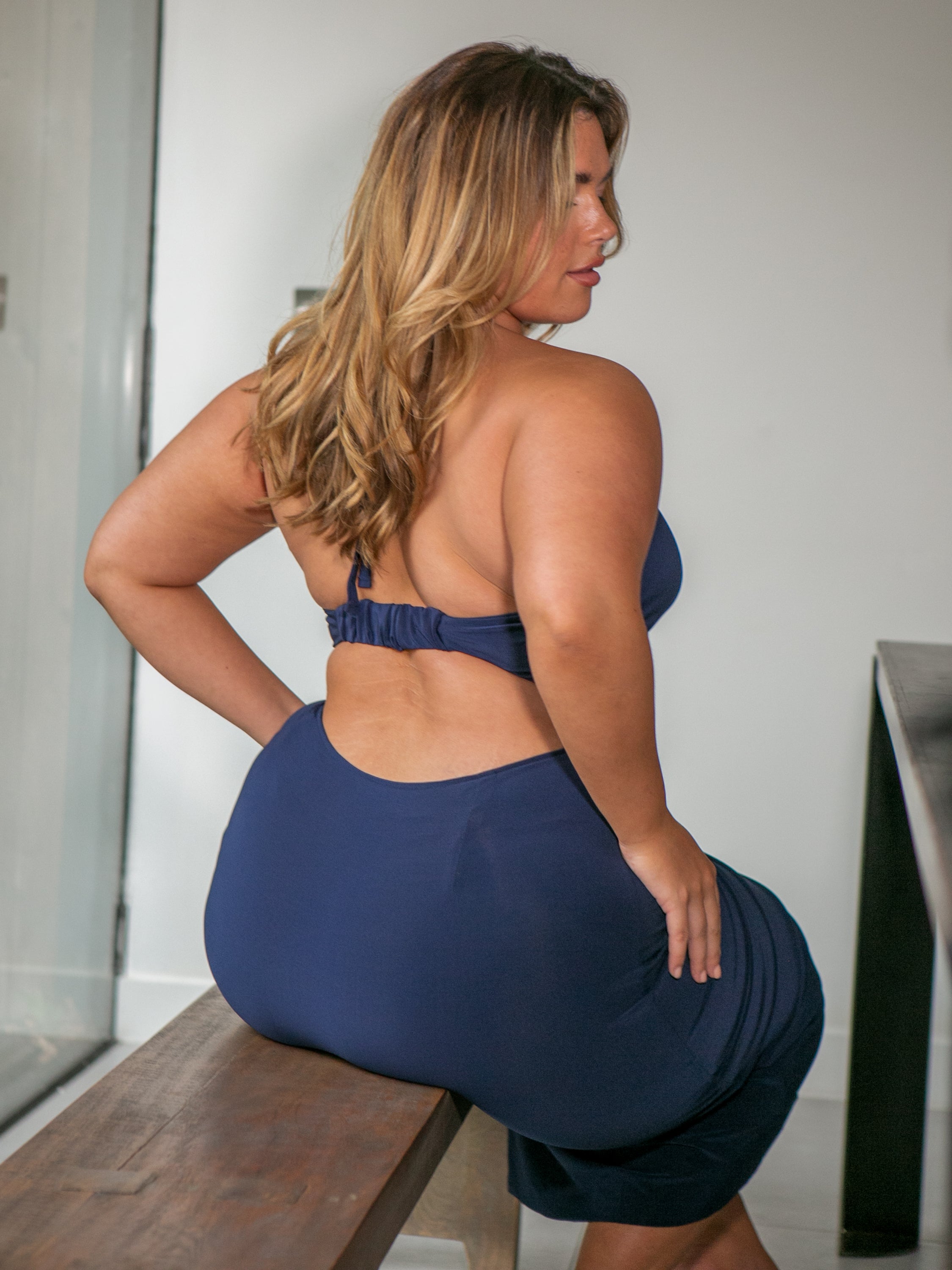 Item is in stock
Hurry! Low inventory
Item is out of stock
Item is unavailable
Shipment starts on {DATE_WILL_BE_SHOWN_HERE}
Shipment starts on {DATE_WILL_BE_SHOWN_HERE}
The 'Warren' is an elegant bodycon dress with a halterneck you can tie at the back with a bow and a bold backless design. The dress is double layered throughout, creating a flattering and supportive fit.
---
Information about Warren Midi Dress

Sizing & Model Information

Alie is 5ft6 and is a UK 8. Alie has a 32DD bust. She wears a size S in tops, bottoms and dresses.

The fabric is stretchy (approx 4 inches at full stretch capacity) so it will allow for some flexibility on sizing. If you are between sizes, we recommend sizing down for a more snug fit or sizing up for a more casual fit.

Click on the 'Sizing Chart' next to the product photo above to view our Size Chart.

We've also now partnered with Sojo to offer bespoke tailoring on a selection of our items. We know that everybody is different so if the measurements don't quite work for you then why not opt-in, to consider having it tailored for the perfect fit.
AYM will partially cover the cost of the alteration.


Fabric Information

95% Polyester, 5% Elastane.
This garment is made using a deadstock ITY fabric.

We think raw polyester fabric is pretty icky - that's why we no longer use raw polyester fibres. It's a shame that Polyester has so many bad qualities - because overall it is one of the most hard wearing materials that can be used in clothing. It is durable and long lasting so that it can be worn over and over again. Clothing durability helps to reduce waste from damaged garments ending up in landfill - as well as reducing excessive consumption needed to continuously buy replacement items. Where we use deadstock polyester fabrics we encourage you to wear the garments often, to take good care of them so that they last and to wash them responsibly (follow our care guide).

Follow the washing instructions on the inside washing label for the best results.

For the most sustainable care we recommend washing as little as possible. Using a handwashing process wherever you can as this doesn't rely on washing machines and dryers that use a lot of power. It's also a gentler process that will allow the garment to last longer. We recommend opting for eco-friendly washing detergents.

As this garment contains Polyester, please wash it using a microfibre washing bag that helps to protect synthetic garments and reduces the amount of microfibers that may enter rivers and oceans from water systems.

Sustainability

Fabric – this garment is made using a deadstock ITY fabric. There is a lot of fabric waste within the fashion industry. By using fabric that has already been created we are turning what could end up being waste, into a garment that will have a useful life. We are committed to reducing our demand on raw material creation.

People - the garment is sewn ethically in London, UK. It's made by expert sewing machinists who are paid above a living wage. AYM is a member of Brighton Living Wage organisation to raise awareness of the importance of paying a living wage.

Packaging – All paper and card packaging, including the boxes, swing tags and box inserts are made using FSC® responsible paper and card. They can be biodegraded or recycled after use. The garment bags are used to protect the garment to ensure it isn't damaged in storage and transit. These bags are made using a D2W biodegradable garment bag.

To learn more about what we are doing to be more visit our 'Sustainability' page.

Shipping + Contact Info

Shipping

We ship worldwide.

Shipping services are available to all locations. Free Shipping is available when you spend over a certain amount.

Most of our customers are shopping from the US, UK, Canada, Australia, Europe and Asia. We offer a range of delivery services to best suit your needs.

View the full list of Shipping Services